O3 – Teacher's Manual actions for the prevention of academic failure
Leading Partner
Universidad Rey Juan Carlos
Participating Partners
Associazione "Per Boboli"
Opera della Divina Provvidenza Madonnina del Grappa
Instituto Politecnico do Porto
Kyttaro Enallaktikon Anazitiseon Neaon (KEAN)
This document is intended for high school, vocational training and university teachers. It is a manual that is closely linked to the other outputs proposed by the project, using preliminary research on the reasons for school dropout of adults with social difficulties and putting them at the service of new teachers. The goal was to identify customized principles in adult education, to analyze neuroeducation and facing issues (intelligence, motivation, executive function, meta-learning and meta-cognition, among others), the identification of warning signs of academic failure; as well as a proposal for an observation tool that the teacher can use to identify the warning signs of academic failure in order to tailor their methodologies to the needs of their students.
All involved partners contributed to the drafting of the document according to their previously shared experiences within the partnership. In particular, the partners KEAN, Instituto Politecnico do Porto and Opera della Divina Provvidenza Madonnina del Grappa, already strongly active in this sector, took care of competing with the Universidad Rey Juan Carlos, head of the output in question, to the collection of information and the common structure of the document.
Each partner has indeed contributed with its own traits to the development of this output.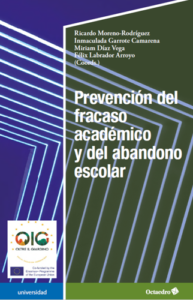 Prevención del fracaso académico y del abandono escolar